Borg - 71 FL f/3.9 Modular Astrograph Set (2571 + 2x 7050 + 7801 + 7835 + 7602 + 7870)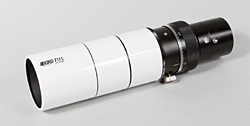 BORG 71FL OTA
0.7x reducer (see # 7870 below)
Total of 5 elements
280mm focal length
F3.9
35mm full-frame coverage
Modular design is a strong point of the Borg system. This allows the use of many Borg components across several families of telescope sizes, thus reducing production costs and selling price to the user. This also means more system flexibility to the user. A Borg system can start small and be upgraded incrementally as needs change. Even objectives can be upgraded with minimal impact on the rest of the system.
Portability is an important factor in the Borg system design philosophy. Scope tube diameters are no larger than absolutely required for the light cone, reducing tube weight. Borg tubes can also be disassembled down to short pieces, a convenience for packing, especially for airline trips. And optics, including the objective lenses, can be removed so that only the critical components need be hand-carried.
True Helical Focusers are standard with Borg systems. Helical focusers work by turning a ring to focus as you do when using a conventional camera (at least in manual focus mode). A true helical focuser works like a camera -- when you turn the focusing ring, neither the lens nor the camera (or eyepiece and diagonal) rotate. The only motion is in and out. Some manufacturers implement a "pseudo-helical" focuser which results in a rotating camera or eyepiece, but Borg focusers are true helical focusers. (see #7835 below)
The advantage of helical focusers is the fine adjustment possible, in part due to the fine pitch of the focusing ring's thread, and in part due to the large diameter of the ring. In the case of the Borg helical focusers, virtually backlash-free movement and graduated markings on the focusers allow repeatable return to the focus point simply by noting the focus position reading. In addition to being a standard component on Borg scopes, a common use for a Borg helical focuser is to add it on to an SCT or any other scope with a coarse focuser such as a rack-and-pinion focuser. Especially in the case of SCT's this allows for fine focus positioning without the annoying image shift which is often large enough to move a target off a small imaging or guiding CCD chip.
Components Included:

#2571
50FL Fluorite Objective Assembly
#7050 (x2) 80 Dia 50mm Tube

#7801
M77.6 to M68.6 AD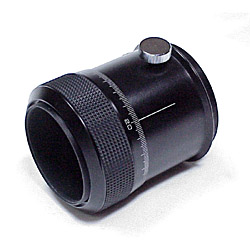 #7835
Helical Focuser M - M68.8

#7602
M57/60
Extension Tube 20mm

^


#7870
0.7x Triplet Multi Super Reducer
with Camera Rotator